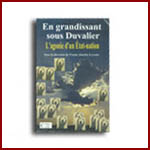 A prolific author, Dr. Férère most recent historical work entitled "Les ingérences de l'Armée d'Haïti dans les élections de 1957" is published in EN GRANDISSANT SOUS DUVALIER. The book, could be purchased by contacting Dr. Gerard Ferrere at Gernancy@hotmail.com or by writing to him at 20136, Ocean Key Drive, Boca Raton Florida, 33498.
---

Nancy Turnier Ferere-
Wife of Dr. Gerard Ferere and also the sister of Wilhelm Turnier who perished in Fort- Dimanche in 1963. She took refuge with her husband at the Chilian Embassy and later went into exile with him.
Mrs........Turnier Laroche. Sister of Wilhelm, forced into exile.
Journey to peace
Posted in South Florida Sun-Sentinel - October 13, 2002

---

By Gérard Férère.- Thirty-nine years ago, in May 1963, Haiti president, Francois Duvalier, used a failed attempt on his son`s life as a pretext to order the massacre of thousands of citizens. Having learned I was on the execution list, I took refuge with my wife, Nancy, at the Chilian embassy in Port-au-Prince. I had been victimized by the regime on several occasions: In 1958 Duvalier ordered my dismissal as an officer in the Haitian Navy for protesting against his rigged election; and between 1958 and 1963 he had me incarcerated five times. Thinking he would resign under OAS pressure, we expected our stay at the embassy to be short.

Contrary to expectations, Duvalier did not resign. Our planned short stay became our forced exile, and we were compelled to leave our two infants behind. Abandoning our babies in harm's way remains the most painful event of our lives. Our departure was to have been to some undetermined destination were it not for the benevolent intercession of a remarkable man, Robert Maule, general consul of the United States. Without our asking, Maule came to the Chilean embassy to grant us immigrant visas to the United States.

May 12, 1963. Here we were, free at last! But torturous days still lay ahead. The nightmare of our children left behind was exacerbated when we learned my wife's four brothers had been arrested. With God's help, her mother had managed to hide the babies. And thanks to Maule again, they safely joined us here that September.

Less than a year later, after working a few months as a translator for the State Department, I was able to fulfill my professional dream and embark on a teaching career at Saint Joseph's University in Philadelphia. While teaching there, I furthered my education all the way to a doctorate.I also met the most wonderful people, among them my best friend and mentor, the late Dr. Michael Toconita.

My family and I owe Saint Joseph's the happiest years of our lives.My academic activities never diverted me from my interest in Haiti. I publicly lobbied against

and held board memberships in the National Coalition for Haitian Refugees and the then-Washington Office on Haiti. In 1980 I, along with a group of Haitians and Americans, helped found the Coalition for Haitian Concerns, an organization in Philadelphia aimed at protecting refugees. America welcomed our family as immigrants. Today I am a citizen happy to have been able to contribute to the formation of thousands of students.

In 1998 I retired as professor emeritus. My wife and I call Boca Raton home. Our daughters, Magali and Rachel Ferere, and grand-children, Tasha-Nanci Richardson and Christopher Jenkins, still live in the North. While in Palm Beach County, I plan to remain active in Haitian and American affairs, educational, civic, cultural and otherwise. This includes my guest lecturing, my teaching in the school district's multicultural institutes when invited, my Creole classes, my duties as a citizen.

As a fellow immigrant, I humbly wish to advise other expatriates to get seriously involved in the life of this country that has welcomed us. Some may harbor the legitimate dream of returning to the native land. However, do realize that most of us are here to stay. So let us be grateful to our new motherland and give her the love she deserves. In spite of situations that may be viewed as shortcomings, our good old U.S.A. is more generous in matters of immigration than most other countries. And remember, should you decide to become citizens, in no way shall your American nationality prevent you from being useful to your native country. Au contraire! You will be in a better position to advocate on her behalf. God bless America!

More on Dr Gérard Férère...

---

Click here to
BUY YOUR COPY
TODAY!
$15.00+$2.50 Shipping
& Handling in the U.S.
Make Check or
Money Order
Payable to:
fordi9 and mail to
Fordi9
PO Box 6070,
Freeport. NY 11520
• • • • • • • • • • • • • • •
THANK YOU
FOR VISITING
OUR WEBSITE.
Please sign into the
Guestbook.
Or contact us at
fordi9@fordi9.com
---

Florida Readers...
Fort Dimanche
Dungeon of Death
is now available
at Libreri Mapou
in Miami - Fla.
Visit the
bookstore or call
305 757-9922
to reserve your copy from this limited edition.
---