Mrs Jean Claude Sansaricq born Grazelia Sansaricq- Killed with her children.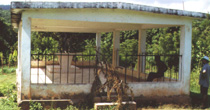 Mausoleum Erected for the victims killed in Jeremie in 1964. The Mausoleum was built in 1986, after the fall of Jean Claude Duvalier, thanks to the special collaboration of Monseigneur Romulus and many concerned patriots. The Musoleum is erected in the vicinity of the runway numero #2 of Jeremie's Airport, the exact location where the extermination occurred 37 years ago.The Club Des Amis d'Issaac Dana, based in Brooklyn, New York is endeavoring to maintain and protect the Mausoleum and the memories of the victims. The Club is attempting to transform the Mausoleum into a historical place. The officers of the Haitian Army and Macoutes, who have participated in the Vespers of Jeremie are Lt. Abel Jerome - Lt. Sony Borge - Col. Regala - Sanette Balmir - St Ange Bomtemps - and many more to be added as the data are compiled.

Mrs. Pierre Sansaricq

Pierre Sansaricq Executed

Adrien Sansaricq-Killed in 1969 in PAP

Marie Catherine Sansaricq She was 10 years old, when she was assassinated.

Lily Sansaricq

Daniel Sansaricq Killed in 1969

Jean Claude Sansaricq At an early age - Killed during the Vespers as well as his wife Graziela and their 3 children..

Fred Sansaricq At an early age - Killed